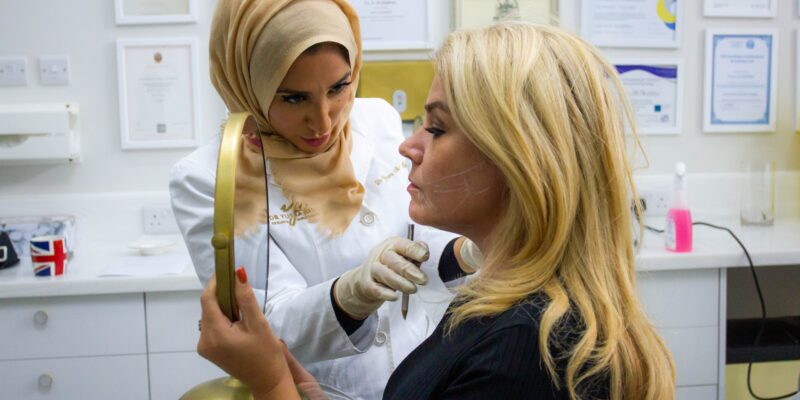 What is hyperpigmentation?
Hyperpigmentation is when patches of the skin become darker in colour than the normal surrounding skin due to an excess of melanin and it can go into overdrive during the warmer months. This is because the melanocytes in our skin respond to heat and sunlight by producing more melanin in an attempt to protect us, and to protect the skin from sunburn and skin cancer. Malfunctioning of the melanocytes can happen in those who are more prone to hyperpigmentation from sun damage than others. What you see on the surface of the skin is the tip of the iceberg, with worse pigmentation in the deeper layers that rise to the surface over time.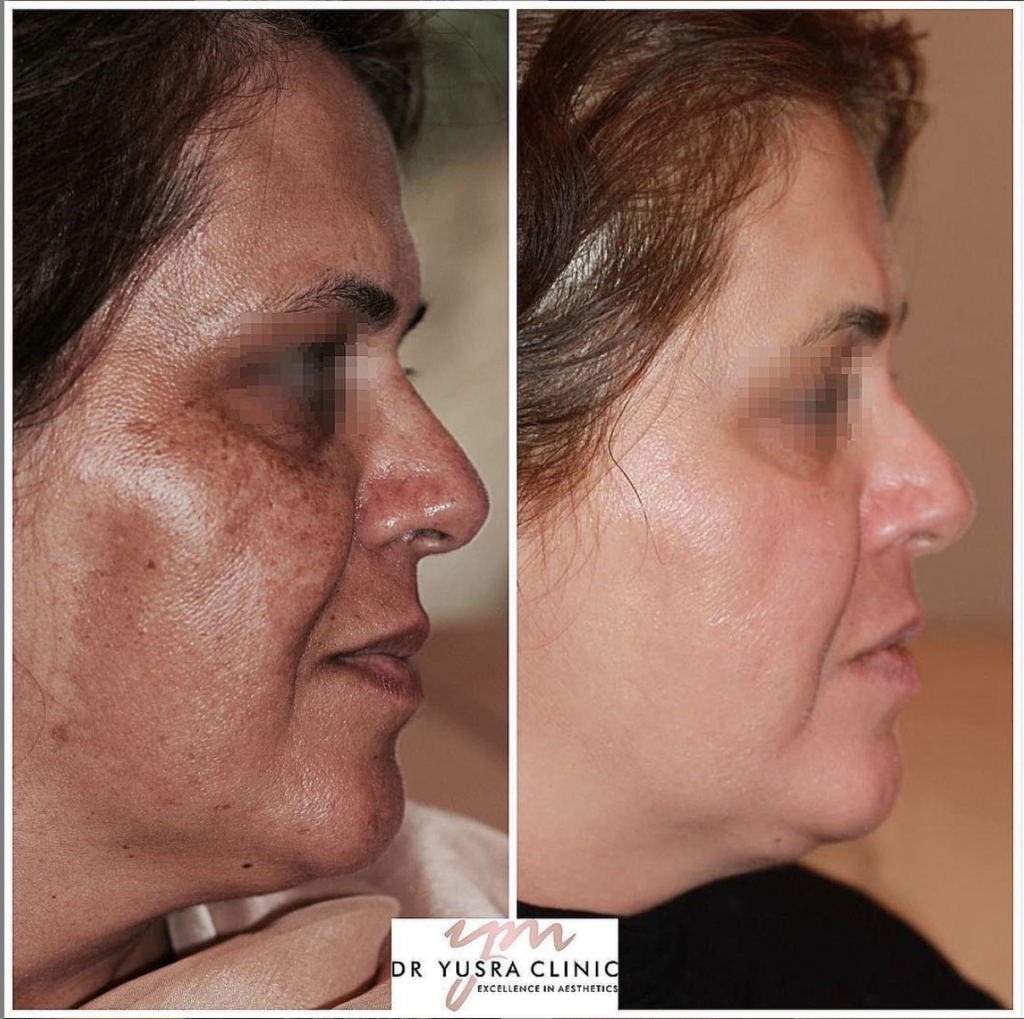 What causes hyperpigmentation?
Dr Yusra specialises in treating hyperpigmentation at her premium Harley Street and Liverpool clinics. She believes that prevention is better than cure and extols the virtues of high factor SPFs. This is because sun damage is cumulative and damage done in our 20s will show in our 30s and our 40s, with age spots appearing over time and becoming wider. However, once the damage is done, there are ways to reverse it.
Who is prone to hyperpigmentation?
​According to Dr Yusra, it's easy to identify those most likely to be affected: "those at risk of hyperpigmentation tend to be Fitzpatrick skin type three, four or five – they will almost never burn and usually tan. Skin pigmentation can also be hormonal and women who are taking HRT, the oral contraceptive pill or who go through pregnancy can also find that their skin is prone to these changes."
How do you treat hyperpigmentation?
Dr Yusra shares her advice on how to tackle hyperpigmentation:
Opt for medical-grade prescription skincare rather than over-the-counter remedies to treat pre-existing hyperpigmentation. 
These will penetrate into the deeper dermis, allowing cellular change and have formulations and enzymes aimed at reducing hyperpigmentation and improving cell turnover.
Some of the best products for hyperpigmentation are medical grade ones, with the best treatment being a combination of four percent hydroquinone with tretinoin, both of which are only available on prescription. Hydroquinone is the 'gold standard' for treatment of hyperpigmentation and is often used in combination with antioxidants and hydroxy acids retinoids. Tretinoin is also known as retinoic acid and is the generic name for synthetic vitamin A.
When it comes to non-prescription or over-the-counter products, Dr Yusra believes that the best ones are mainly about prevention. She cites vitamin C as an essential buy, as it promotes collagen formation, reduces age spots, brightens the skin and helps to strengthen SPF eight fold.
Choose in-clinic solutions, such as INTRAcel, the Obagi Blue Peel and the ZO three-step skin peel to expedite the treatment process, lifting pigmentation and improving skin texture and radiance.
Dr Yusra's treatment of choice is the ZO three-step skin peel, which would need to be performed across three to six sessions monthly in order to see sensational results. This would need to be supported by daily use of bespoke medical grade skincare and Dr Yusra would recommend a four month course of medicated skincare.
She also recommends INTRAcel treatments. This is an in-clinic procedure which combines micro needling with radio frequency, allowing deep penetration of the medicationslift any residual pigmentation and tighten up the skin. Unlike laser procedures or surgery, INTRAcel protects the surface of the skin from damage and the treatment is targeted at variable depths below the skin surface, meaning that healthy skin is left undamaged causing minimal pain and discomfort.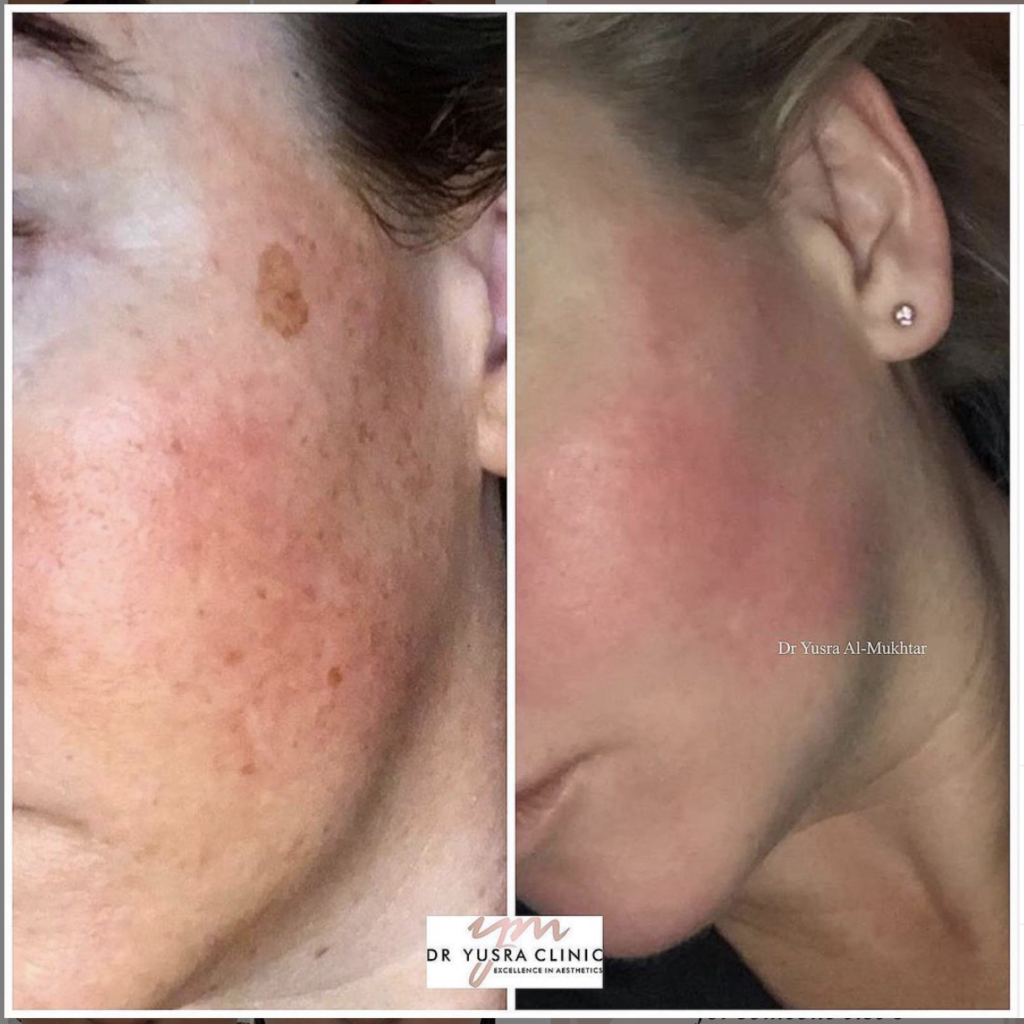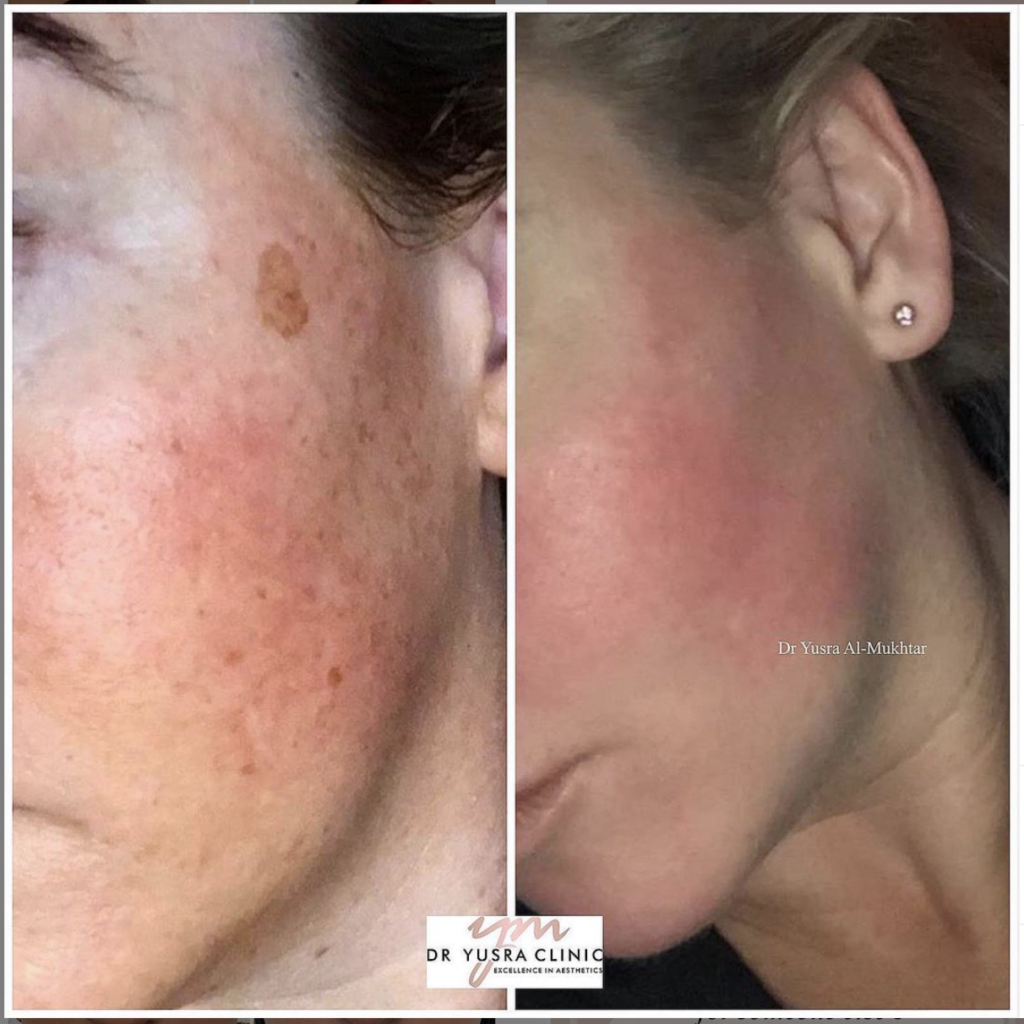 High factor SPFs are essential to preventing hyperpigmentation – but not all SPFs are created equal.
Choose a stand alone SPF of over 30 and with a high PA factor, and apply it as the last step in your skincare routine. If you are acne prone, she suggests opting for a mineral spf with Zinc Oxide, which is healing on the skin.


An SPF evangelist, Dr Yusra believes those prone to hyperpigmentation should use a high factor product every day and states that sunbeds should be absolute no go for those affected.
She recommends topping up your SPF every two hours, and this can be with a powder or a mist. However, if your face is directly in the sun then topping up every 10 minutes is recommended.
To control pigmentation, Dr Yusra recommends wearing a factor of 30 or above, alongside wearing wide brim sun hats and large sunglasses. Her recommended SPF would be a mineral with an SPF of 50, that offers UVA, UVB and infrared protection and this should be applied all over exposed areas.
Also according to Dr Yusra, many products are actually chemical SPFs that are reliant on a chemical reaction to provide adequate protection, and those chemicals are absorbed into the body, with new evidence demonstrating that these can be endocrine disruptors. Chemical SPFs are cheap and found in most over the counter SPFs and she recommends avoiding these if you can afford a mineral SPF. When it comes to her own skincare, Dr Yusra always opts for a mineral SPF, with her preferred products being either Obagi SPF50 matte or Colorscience mineral face shield. A good combination of chemical and mineral SPF is Heliocare 360 which offers a high level of protection.
To find out more or to book a consultation, please contact us.