The Ultimate Guide to Non-Surgical Rhinoplasty: Enhance Your Nose with Dermal Fillers
Posted on 4th July 2023 by Dr Yusra Al-Mukhtar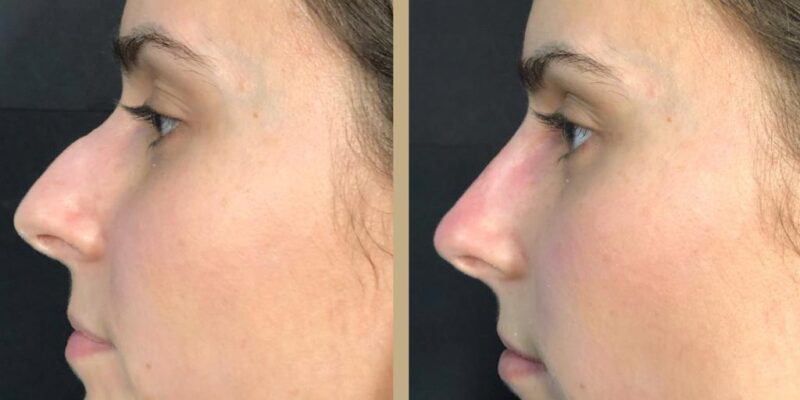 In recent years, non-surgical rhinoplasty has gained popularity as a safe and effective alternative to traditional surgical procedures. This innovative treatment, also known as a non-surgical nose job, offers individuals the opportunity to enhance their nose's appearance without going under the knife. By utilizing dermal fillers, this minimally invasive technique can address a variety of aesthetic concerns, such as a dorsal hump, asymmetry, or a droopy tip. In this comprehensive guide, we will delve into the world of non-surgical rhinoplasty, exploring its benefits, procedure details, recovery, and potential risks.
I. Understanding Non-Surgical Rhinoplasty
Non-surgical rhinoplasty is a procedure that involves the use of dermal fillers to reshape and enhance the appearance of the nose. Unlike traditional rhinoplasty, which requires surgery and significant downtime, non-surgical rhinoplasty is minimally invasive and allows for quick recovery. The procedure is typically performed by a skilled aesthetic medical practitioner.
II. The Benefits of Non-Surgical Rhinoplasty
Minimally invasive: Non-surgical rhinoplasty offers a non-invasive approach to nose enhancement, with no need for incisions or general anesthesia. This means minimal pain, swelling, and bruising, as well as a shorter recovery time compared to surgical alternatives.
Quick results: Unlike surgical rhinoplasty, which may require months to see the final results, non-surgical treatments provide instant gratification. Patients can enjoy immediate improvements in their nose's shape, symmetry, and overall appearance.
Reversible and customizable: Dermal fillers used in non-surgical rhinoplasty can be adjusted or reversed if necessary. This flexibility allows for personalized results and gives patients peace of mind.
III. The Non-Surgical Rhinoplasty Procedure
Consultation: Before undergoing the procedure, it is crucial to have a consultation with a qualified professional. This will be undertaken prior to the injectable procedure. During the consultation, the practitioner will assess your nose, discuss your goals, and determine if you are a suitable candidate for non-surgical rhinoplasty.
Preparation: On the day of the procedure, the treatment area will be cleansed, and a topical anesthetic may be applied to ensure your comfort during the injections.
Dermal filler injection: The practitioner will strategically inject dermal fillers into specific areas of the nose to address your concerns. Common injection sites include the bridge, tip, and sides of the nose. The fillers work by adding volume and reshaping the nose to achieve the desired outcome.
Sculpting and moulding: The practitioner will meticulously sculpt and mould the filler to create a natural-looking result. This step requires skill and expertise to achieve symmetry and balance.
Final adjustments: Once the desired outcome is achieved, the practitioner will assess the results and make any necessary final adjustments.
Post-procedure care: After the procedure, you may experience minor swelling or bruising, which will typically subside within a few days. The practitioner will provide aftercare instructions to ensure a smooth recovery.
IV. Potential Risks and Considerations
While non-surgical rhinoplasty is generally considered safe, it's essential to be aware of potential risks and considerations. These may include temporary side effects such as swelling, bruising, or redness at the injection sites. In rare cases, there may be complications like infection or vascular occlusion, although these are extremely uncommon with experienced medical practitioners. It's crucial to choose a qualified medical professional who has extensive training and experience in non-surgical rhinoplasty to minimize any risks.
Non-surgical rhinoplasty has revolutionized the world of cosmetic procedures, providing individuals with a safe, effective, and non-invasive alternative to traditional surgical options. The non-surgical nose job is a highly sought-after procedure here at the Dr Yusra Clinic with patients flying in from all over the world.
Through the skillful use of dermal fillers, it's now possible to enhance the appearance of the nose, addressing various aesthetic concerns without the need for incisions or general anesthesia. The benefits of non-surgical rhinoplasty are numerous, including minimal downtime, immediate results, and the ability to customize and reverse the procedure if needed.
However, it's essential to have a thorough consultation with a qualified professional and understand the potential risks involved.
By following this guide and choosing a reputable practitioner, you can embark on a transformative journey towards a more balanced and aesthetically pleasing nose without the need for surgery.