Ultracel: the secret behind Kerry Katona's new look
Posted on 1st October 2021 by Dr Yusra Al-Mukhtar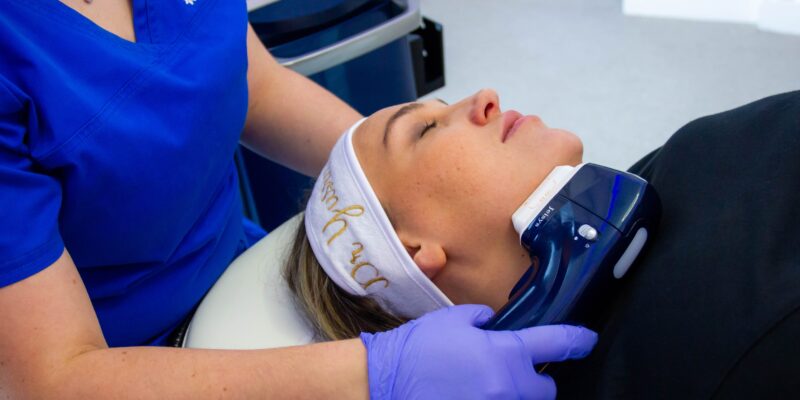 Kerry Katona's latest non surgical treatment
Kerry Katona has been in the news again – and this time it's because of her new look. The celebrity has had Ultracel, and is looking fresh and radiant as a result. But what is Ultracel and how does it work?
What is Ultracel?
Ultracel is a non-surgical face-tightening treatment. It consists of a combination of radio frequency and high-intensity focused ultrasound that targets both skin and muscle. Ultracel works by sending heat energy to the muscle, which makes it contract, lift and tighten, thereby causing a lifting effect. The deep tissue action tightens and stimulates collagen too.
The result of all this is that Kerry looks great. Lifted, toned, with a more defined jawline and most importantly, she looks natural and doesn't look overdone. That's the beauty of Ultracel.
How long does it take to have an effect?
As we can see from Kerry Katona's pictures, the effect is immediate. It will also continue to work over time, with improvements over a 3-month period, resulting in a tighter-looking face, reduced jowls and a more defined jawline.
Why should you consider Ultracel too?
Ultracel is a treatment I love, and which I recommend to everybody over the age of 35. As we age, our facial muscles get loose and lax, causing the face to drop and become heavy in the jowls and neck. At the same time the fat pads in the jowls and under the chin get larger, affecting the jawline in both men and women. With Ultracel treatment you take away the need to use as much dermal filler because now you've tightened, now you've lifted, you just don't need dermal filler any more, resulting in a natural looking effect – you've reversed the ageing effect of the loose muscle.
More contoured, more defined, more lifted
At the Dr Yusra Clinic, we offer a bespoke and unique package combining Ultracel and Endolift. It's important to utilise different modalities of treatment; Ultracel to target the muscle and Endolift to target the excess fat in the jowls and double chin. This creates a really nice natural-looking result of a more defined and lifted face without ever having to have any surgery, no downtime, no stitches, no incisions, done.