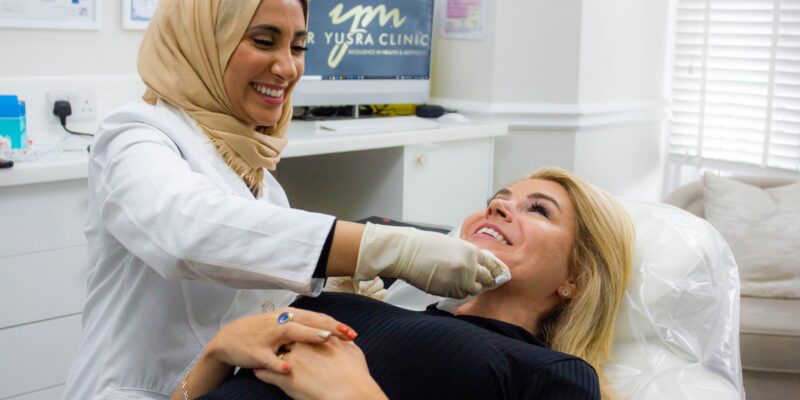 As we age, our skin loses hydration internally as the production of collagen starts decreasing after the age of 30. Unfortunately, even the most expensive creams and serums can only go so far in hydrating our skin and sadly, no amount of face cream can penetrate the deeper layers of the skin.
Here is where Profhilo® comes to the rescue! It's perfect for areas like the face, neck, and décolletage that need hydrating, smoothing and tightening.
What is Profhilo and how does it work?
Profhilo has won the award for the best injectable product in Europe. Profhilo is an injectable treatment that stimulates the natural production of 4 different types of collagen and elastin in the skin. The benefit isn't just by boosting collagen but also rehydrating the skin, improving elasticity and smoothing the skins' texture by using the slow release of hyaluronic acid over the course of 2 treatments.
Profhilo would be beneficial for those who have:
thin crepey skin
Fine lines and wrinkles
Dehydrated skin
Profhilo is not like a traditional dermal filler as the hyaluronic acid in it is "super-thin"and is of much higher content. We think of it as more like an "injectable moisturiser" that encourages the skin to repair and hydrate itself.
It is the perfect treatment for those of you who would rather hold off dermal fillers, but still want to walk out there with fresh-looking, flawless skin.
What does the treatment entail?
The treatment consists of up to 10 small injections. For the best results, it is recommended that you undergo two Profhilo treatments 4 – 6 weeks apart. Another session might be required around 6 months after the initial treatment in case the skin is particularly dehydrated and crepey. The effects last for around 9 months.
With the cold weather coming up, why not treat your skin to a burst of moisture, for a brighter and smoother complexion?
To book in for this treatment in London please click on "Book appointment" and choose Dr Yusra or Dr Shahd to view the available appointments. To book in for Liverpool please select Dr Yusra and click on your chosen date and time. For any questions please call us Monday to Friday 9.30-5pm on 03332244666 or email info@dryusra.com